GM Hikaru Nakamura won the 2009 U.S. Chess Championship by defeating GM Joshua Friedel in 22 moves in the ninth and last round of play. By defeating Friedel so early, Nakamura,
had to see wait and see if IM/GM-elect Robert Hess could also win his last round game against Varuzhan Akobian, which would have forced a playoff between Nakamura and Hess. Hess (playing white) tried to defeat Akobian for 43 moves, however at this point, he decided to allow the game to be an agreed draw. What is interesting is that at the time Hess and Akobian agreed to a draw, the position was one in which Hess was two pawns up in material. However, the endgame was an opposite- color bishop endgame, and Akobian was able to block the advance of both of Hess' passed pawns skillfully, preventing their advance by placing his pawns on dark squares. Congratulations to GM Nakamura. What is interesting about Nakamura, is that not long ago in was living in Vancouver, British Columbia Canada, and appeared to possibly be going to be living their permanently,when all of a sudden I discovered he had moved back to the United States (New York City, according to Micah Hughey at the Edmonton Chess Club). Here is the final position of the Hess-Akobian game, would you have kept playing if you were Hess?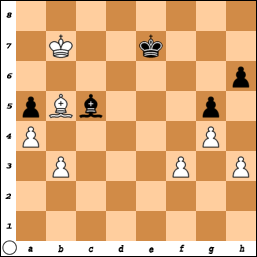 Congratulations on your victory GM Nakamura!